Propsense Q3 2017 Released-Gross Absorption was 12.1 msf spread across 438 msf of total stock across the top 7 Indian cities. Cumulative Vacancy for these cities was 12.5% during end of the quarter.
Massachusetts Institute of Technology (MIT) in collaboration with Propstack has built India's office realty rent indices for top 6 cities. These indices depict the growth of office rents since 2010.Both MIT and Propstack believe that an indicator tracking the rental growth like Rent Index can be important for an emerging market like India, promoting better transparency and higher institutional investments.Bangalore has seen biggest annual increase in rents since 2010 while Mumbai had the slowest annual rent growth.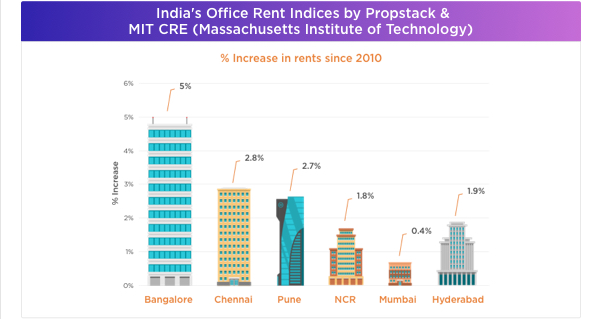 Mumbai saw total office space absorption of 7 million sft till the third quarter in 2017, IT buildings leading with 32 %. The city continued to witness higher office vacancy for Non-IT buildings in 2017 whereas vacancy in IT buildings, was less in comparison.
Hyderabad recorded highest leasing activity of 3.4 msf in Q3 2017. Catering to the increasing demand for quality office space, the city witnessed the addition of 3.5 msf this quarter.
Top CRE markets in India will witness lease expiries of 6 msf in Q1 2018, up by 66% compared to Q1 2017.
Information Technology (IT) sector continued to dominate the office leasing activity in India in 2017.
Mumbai recorded the highest registration of loans in 2017. More than eighty-four thousand crores worth of developer loans (charges) were registered in 2017.Majority of the loans were sanctioned at an Interest rate of 12-15%.
2017 Office Sale Stats
A look at the 'Last Modified Date' field for all the projects in MMR & Pune registered on MahaRERA reveals that 65% of the projects have not updated the data in the last 3 months. As per clause no. 20, the Maharashtra RERA act says that the project information needs to be updated at the interval of every quarter <link>. The data which developers have to update is primarily –(1) Units Sold and (2) completion %.We also observe that primarily small projects with carpet area of less than 50,000 sft are 66% of the projects that have not been updated on RERA. This leads us to believe that maybe small developers are the ones who are not updating their projects on a quarterly basis. To validate this further, we also did a manual check for some of the leading developers and found that they are updating their projects.
Propsense Q4 2017 Released -Gross Absorption was 15.7 msf spread across 444 msf of total stock across the top 7 Indian cities. Cumulative Vacancy for these cities was 12.2% during end of the quarter.
For more details login to office.propstack.com
PropMODI.com – view property registrations in MahaRERA registered projects for Free!
To get detailed insights regarding loans/charges under our coverage, login to loans.propstack.com