India has seen a surge in Private Equity investments in the recent years. Leading global private equity funds have invested in trophy commercial real estate assets across top cities of India to reap benefits of attractive yields.
We, at Propstack, looked at the historical performance of some of the micromarkets where the properties acquired by these institutional investors are located.
The Xander Group together with Dutch Pension Fund APG Asset Management bought 'The Gateway – IT SEZ' located in Perungalathur from Shriram Group.
This asset is located in Grand Southern Trunk Road (GST) Micromarket. Over the past five years, the vacancy level in this micromarket has dropped from double digits to below 4%. New supply has been sparse and total building inventory/ stock is approximately 2.8 msf. Average rental has increased marginally over the years to a value of INR 35/sf/month in 2016.
American private equity major – The Blackstone Group bought First International Financial Center (FIFC), a prime commercial complex located in the Suburban Business District of Bandra-Kurla Complex (BKC) from a consortium of fund managers.
BKC micromarket inventory has increased substantially from 8.5 msf in 2012 to 13.2 msf in 2016 due to some major project completions in the past two years. Despite stable absorption levels, the vacancy has surged from 11.1% in 2012 to above 30% by end of 2016.
Brookfield Asset Management acquired entire commercial and retail assets portfolio of Mumbai based Hiranandani Group in Powai, in one of the biggest Indian real estate deals in recent times.
Powai is a major location of the Eastern Suburbs micromarket in Mumbai. Due to the presence of many quality assets in this micromarket, vacancy level has remained below 8% in the past five years. The office stock/inventory during this period has increased by nearly 2 msf and due to high demand, the rentals have crossed the three-digit mark in 2016.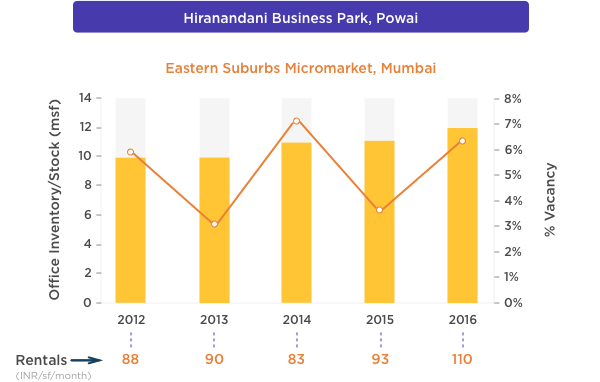 Gurgaon based developer BPTP sold its IT Park – BPTP Crest to Bangalore based RMZ Corp backed by Qatar Investment Authority (QIA). The IT park is located in Udyog Vihar, Gurgaon which is a part of the Rest of Gurgaon micromarket.
Due to the presence and supply of many large projects, the total stock in this highest inventory micromarket has grown from 32.5 msf to 44.6 msf.  Vacancy level has remained nearly stable and rentals have steadily grown over the past five years.
*Grade A data only
To get more CRE insights login to www.propstack.com